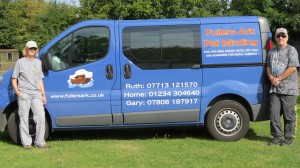 Dog walking -from £5.50 (Bedford) and from £6.50 (surrounding area)
A lot of people work long hours and their dog needs exercise. We will come to your house collect your dog and take it for a 20- 30min walk, normally in the same area that you do, i.e the local park, or the streets near your house. If you need your dog transported to a park this is not a problem, we can also increase the length of the walk, please contact us for details.
(For weekends and Bank Holiidays please add £1.00 per walk) if it is after 9pm add £2 per walk.this is very rare if its after 11pm we charge double. If its after 10pm and your dog is ok for a popin thats what we normaly offer if your dog dosent go in the garden we will do a shorter walk for a wee stop normaly we will both attend for security. if you need to cancel on the day it needs to be before 7am  as we do have to charge as we have allready started our round.if you need to finish totaly we need 2 weeks notice.we can either do the walks or if you prefer just pay us the 2 weeks
House visits – from £5
If you go away on holiday there is no need to worry about your pet, we know when we go away we always text home or ring, please feel free to do this as many times as you require.
A lot more people leave there dogs or cats in their house when they go away, we can visit as many times per day as you require, the price is per visit, we also visit rabbits, fish or whatever type of animal you have. We will try to keep to the same routine as you do, that includes giving any medication or any special needs your pet will need. If there is a problem while you are away and your pet requires a vet we will arrange this ( a charge will apply) if you need medication given or any treatment for eg flee treatment this can be done as well as Rabbits and Guinea pigs nails being clipped this is normaly £5 per animal.
we will also water your garden ( a extra charge could apply deepending on size of garden) we will also draw curtains bring post in etc so it looks as if you are at home. Ruth can also offer a service where your pet will need medication from tablets to injections this is normally a 50p extra charge.if you have to cancel 48 hrs is needed for a holiday booking and if you get back early we still have to charge as thats your slot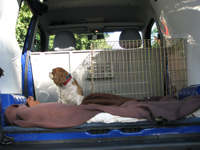 Pet taxi – price depends on distance
If your pet needs to go to the vets or to the kennels etc we offer this service normally after 4pm as the rest of the day we are doing regular dog walking ,but if you have a emergency please contact us we always can see what we can do. its  always best to check with us before you book a appointment and we will tell you what slots we have . A rough guide to our charges are as follows Bedford to a local vets  £15 depends what part of Bedford you are going from this includes 30 min waiting time,then its £5 for every 30 min.Bedford to Barton le Clay £35,bedford to the lodge kennels Baldock £35 Bedford to  Dovarts (Ampthill) £20.these are all return pricesA £10 extra Bank Holidays We also can do long Distances normally weekends, this is a limited service.  We also offer a 24 hr emergency service,this is subject to availability after 10pm its a extra £10 and after 11pm its double we can provide a receite for insurance etc
Boarding
We offer this service for small animals such as rabbits, guinea pigs, we have hutches and runs so we will keep to the same routine as you do, we also do other small animals and have a room indoors set up for these, also house rabbits .appointments can be made to come and see our boarding facilities. 48 hrs is needed if you have to cancel a booking.
we normaly have drop of times for eg small animals to our house  monday to friday  6pm and after. sat 10am to 11am  sunday 2pm to 3pm and we can arrange a sat and sunday evening on some times.all are subject to availability.we will give times with a 15 min time slot.if that time is not a good time or running really late please let us know.thank you
Prices
Rabbits – £2.50 per day, 2 rabbits live together £3.50 per day
Guinea pigs – 1 or 2 £2 per day, 3 live together £2.50 per day
Reptiles – £2 per day  £3 a day if light and heat is needed
Hamsters, birds, rats, or any other small animal £2 per day per cage
If medication on a pet is required there is a small extra charge
In summary
Any keys we hold will not have your address on.
The only time in the year we charge double is Christmas Day, Boxing Day and New Years Day. Apart from any late visits say after 10pm when charges can change.We work evenings as well, so if you need a visit for eg 10pm at night we can normally arrange this.
Terms and conditions
Data protection.all keys are kept with the customers name or dogs/cats etc name on.no address.
any forms the customer fills in is kept in a secure place till you no longer need our services.all other terms and conditions are under the service you need
If you need to pay in advance.for eg it is a big booking and you pay an agreed amount per week/month if you cancal no refund is given