Ruth has loved animals from a very early age. When I was at school I used to look after the school animals, to be honest I loved being with the school rabbits more than doing my school work. In 1994 I got married and moved from my home in Brighton to live in Bedford, at the time I had to take any job I could find,started working in a factory which I really didn't like, but in 1999 I started looking after animals on a part time basis after work.
At this time we had about 26 rabbits and 100 guinea pigs of our own which I really enjoyed. We used to show guinea pigs and won several prizes. Someone at our club said 'why don't you call yourselves Fullers Ark?' That's where our name and logo came from. In 2001 I was made redundant and decided now is the time to go full time.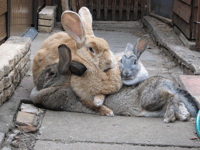 I have never looked back it was the best thing that happened to me, I often walk about 13 dogs a day and in the summer I can do up to 15 house visit for cats. I am often out the house from 7.30am till 11pm at night.
Gary started looking after animals in 1998 after I was made redundant from my shop job. i went to the vets they said have you ever thought about looking after small animals.so I thought this was a good idea, so I started doing small animals on a very small basis. then people started ringing us about dog walking so I started doing this also in a small way. I now am so busy as well as Ruth, we normally get a couple of weeks of early in the year and a couple latter on normally Sept or later, when this happens we have very reliable people to look after the business for us and keep things going