Dog walking - £5.50 (Bedford) and from £6.50 (surrounding area)
A lot of people work long hours and their dog needs excersise. We will come to your house collect your dog and take it for a 30min walk, normally in the same area that you do, i.e the local park, or the streets near your house. If you need your dog transported to a park this is not a problem, we can also increase the lenght of the walk, please contact us for details.
(For weekends please add £1.00 per walk)

House visits - from £4.00
If you go away on holiday there is no need to worry about your pet, I know when I go away I always text home or ring, please feel free to do this as many times as you require.

A lot more people leave there dogs or cats in their house when they go away, I can visit as many times per day as you require, the price is per visit, I also visit rabbits, fish or whatever type of animal you have. I will try to keep to the same routine as you do, that includes giving any medication or any special needs your pet will need. If there is a problem while you are away and your pet requires a vet we will arrange this ( a charge will apply) I will also water your garden ( a extra charge could apply deepending on size of garden) we will also draw curtains bring post in etc so it looks as if you are at home.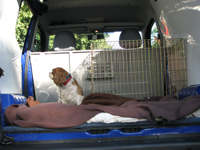 Pet taxi - price deepends on distance
If your pet needs to go to the vets or to the kennels we offer this service before 10am or after 4pm as the rest of the day we are doing regular dog walking

Boarding
We offer this service for small animals such as rabbits, guinea pigs, we have hutches and runs so we will keep to the same routine as you do, we also do other small animals and have a room indoors set up for these, also house rabbits etc

Prices
Rabbits - £2.50 per day, 2 rabbits live together £3.50 per day
Guinea pigs - 1 or 2 £2 per day, 3 live together £2.50 per day
Reptiles - from£1.50 per day
Hamsters, birds, rats, or any other small animall £1 per day per cage

In summary
Any keys we hold will not have your address on.
The only time in the year we charge double is Christmas Day, Boxing Day and New Years Day. We work evenings as well, so if you need a visit for eg 10pm at night we can normally arrange this.